Day 12 - An episode you've watched more than 5 times
(Un épisode vu plus de 5 fois)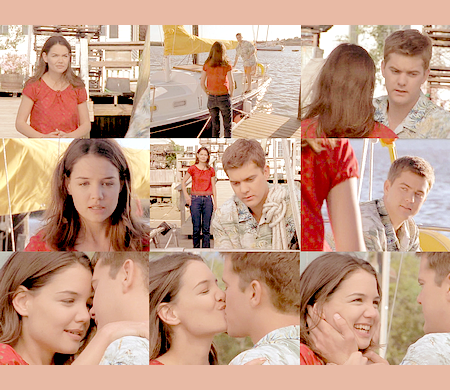 ... DAWSON (3X23) (True love)

{ J'ai vu beaucoup d'épisodes plus de cinq fois à vrai dire. Je pense à Sweet Caroline (saison 2 de Prison Break), aux épisodes qui terminent les saisons de The OC ou encore de Grey's Anatomy et puis il y a les séries de mon enfance, vues et revues à l'usure, Charmed a usé les bandes des cassettes entreposées dans mon salon. Mais cet épisode de Dawson marque l'apparition réelle et concrète du couple Joey/Pacey que j'ai aimé d'une force qu'une jeune adolescente peut en être capable devant des séries dont elle voulait s'inspirer pour vivre sa propre vie. Encore aujourd'hui, j'ai la nostalgie de ce que j'ai pu éprouver face à cet épisode, face à une certaine naïveté qui a complétement disparue (mais dont je ne souhaite pas forcément le retour) Les épisodes de nos séries favorites ont ce pouvoir. J'avais idéalement envie de caser cette ''réflexion'' sur le blog, cet article est le bon. }


Joey: I think I'm in love with you.
Pacey: You think, or you know?
Joey: I know. I've known it since the moment you kissed me and
maybe even before that. And….. scary as it is,
I don't want to deny it any more, Pacey. I don't want to run from
it,and I don't want to let it run from me.
... DAWSON (3X22) (The anti-prom)
Pacey : See this? [He holds up her wrist with a bracelet on it]This is you.It's not showy or gaudy. It's just simple, elegant, beautiful.
Joey : It's my mom's bracelet.
Pacey : I know.
Joey : How do you know?
Pacey : Well, because you told me, six months ago. You were wearing that blue sweater with the snowflakes, that you have. We were walking down the hallways at school, I was annoying you as per usual and you said "Look Pacey I just found my mother's bracelet this morning, so why don't you cut me some slack."
Joey : You remember that?
Pacey : I remember everything.
[ Session speciale Dawson, j'avoue. Nostalgie oblige. ]